How Are Latin American Investors Changing the Miami-Dade Market?
South Florida is one of the most culturally diverse areas in the U.S. The region has been introduced an incredible variety of food, art, music, and tradition, brought to the area by diverse communities. That same diversity exists in the area's real estate investment community. International investors, primarily from South America and Europe, have turned up the heat on an already sizzling market, making competition for limited commercial and residential inventory fierce.
"These days we're in a rising market with competition from in-state, out-of-state, and international investors," says Alejandro Gonzalez, a Marcus & Millichap Associate specializing in multifamily. "We're seeing buyers being more efficient all the way through the buying process. They have to know what they're looking for and be able to move quickly."
Within his specialty, Gonzalez sees a great deal of Latin American presence in the residential/condo market. "It's really a reflection of the experience they have as operators and investors," he says.
Investors from distant shores are attracted not only to specific submarkets but to particular locations as well. Gonzalez notes that the Europeans love South Beach and Miami Beach, while the South Americans are "fighting for a footprint in Little Havana." For South American investors, the South Florida commercial market offers relative economic and political stability.
"Multifamily is very attractive to these international investors because the fundamentals are sound," Gonzalez says. "These are stable investments; they generally offer faster asset appreciation as rents rise, and the demand is there as Miami continues to grow. In addition, banks are lending in multifamily right now — although often we'll see these investors buy with cash and then refinance."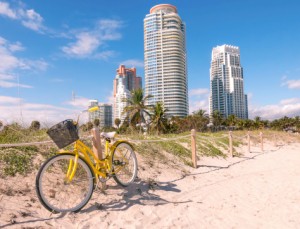 Those who are positioned to move quickly, especially those with cash on hand, are having the best success. "With any listing we're seeing 8 to 12 offers," says Gonzalez. "Buyers need speed not only in underwriting but in execution as well." Gonzalez recommends that investors have a team in place, ready to move on a deal at a moment's notice and a strong relationship with a trusted agent who truly understands the market.
"That's where specialization is so important," he says. "Every agent at Marcus & Millichap is a specialist. We know everything there is to know about our submarkets: the inventory, the neighborhoods, the demographics. And because we represent the sellers, we know better than anyone else what's available."
Gonzalez says that having more competition for fewer properties means investors must be ready to move, and ready to think creatively. Last quarter saw the sale of the last undeveloped lot in the Miami Brickell area. As opportunities for commercial development within the city diminish, savvy buyers will look at adjacent areas such as Overtown, Wynwood, and Little Havana, all primed for growth.
The international community has brought with it a rich cultural and an entrepreneurial spirit that has been a boon to the region's economy. Even as foreign investors intensify the competition, they also bring vibrancy to their communities and opportunities for new development throughout South Florida.
"These clients trust us to give them the best information and help them make the best use of their resources," says Gonzalez. "Once they're willing to sit down with us and discuss their investment criteria, we can help them, and we take that professional role very seriously."
Where will you find your next great investment opportunity? Marcus & Millichap agents know their markets inside and out.
Contact us
to learn how our expertise can help you develop a smart strategy and move quickly on the properties you're looking for.